Plymouth Staff Members Welcome Son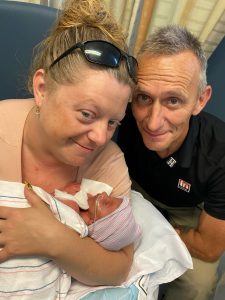 PLYMOUTH, M.A. — Director of Housekeeping Donald Hill and R.C.C.A. Meghan Barney at Plymouth Rehabilitation & Health Care Center welcomed a son named Spencer in June.
Spencer was born more than two months early and spent two weeks in the NICU before graduating to the special care unit. Hill says he had initial worries about welcoming a new child because of his age, but after he was born, he said those worries turned into excitement.
"It is the best feeling in the world but I am super scared because he is so fragile," he said.
Barney says she is feeling great and is happy Spencer is healthy. The couple says their son is continuing to work towards and meet milestones, showing progress.
The center threw a baby shower for the couple in June. Hill says it was "unexpected" and "fantastic."
"I love the people that we work with. It's like a family. Everybody feels like Spencer's their baby. Everybody asks about him," Barney said.
Hill, who was featured in an Inside Athena article in February about his work at the center, says he's looking forward to showing off Spencer to his Plymouth family. The hope is to have him home before September.
MORE FROM ATHENA